Exhibition 2017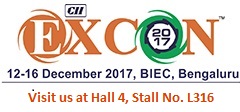 "Creating Paradigm in Pressure Measurement"
ADS Sesnortechnik is a pioneer in Development and Manufacturing of Electronic Pressure Transmitters/Pressure Sensors/ and Switches for Precision Instrumentation and Control applications.
Our products are built to withstand harsh environmental conditions and we have proven track record as reliable supplier for demanding applications in Aerospace, Transportation, Mobile Hydraulics, Refrigeration, Railways and Industrial Automation Segments. These robust products can be found in end platforms such as heavy-duty trucks, off road vehicles, buses, and tractors, industrial refrigeration and hydraulics. All our products use state of the art technology and we use proprietary electronic calibration approach for stability and long-term reliability of our sensor products. We support a broad pressure range 0.1- 4000 bar and our modular design of the pressure products allows us customize the device mechanical and electrical interfaces to customer specific requirements. We undertake specialized projects and some of the examples are ATEX qualified explosion proof pressure sensors for petro-chemical industry, waterproof package for water management systems etc.
We are a vertically integrated company with in house expertise in sensor design and manufacturing. ADZ manufacturing facilities are ISO/ TS 16949: 2002 certified and we take pride in the quality of products delivered to our customer base.